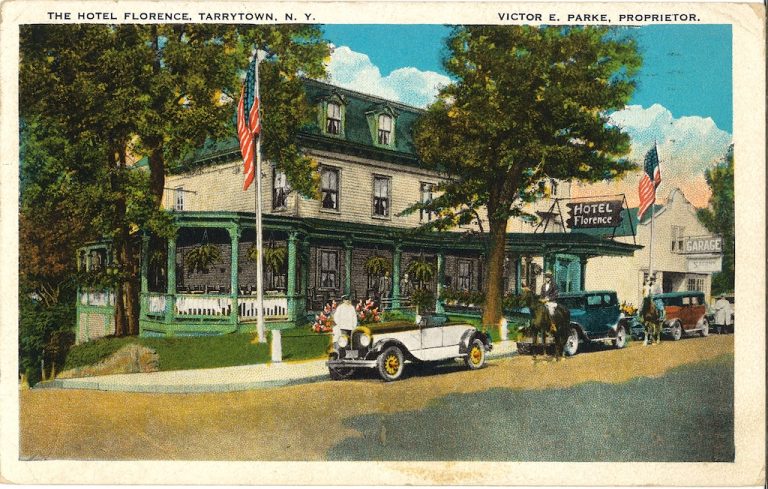 From 1819 to 1964 the northwest corner of the intersection of South Broadway (Route 9) and Franklin Street was occupied by a rambling old house that for much of its existence was a popular inn. Known first as the Franklin House and later as the Vincent House, Florence Inn, and Hotel Florence, it served locals and travelers along the Albany Post Road.
In their History of the Tarrytowns, local historians Jeff Canning and Wally Buxton record a parade of notable visitors to the Florence: President Martin Van Buren often stopped while in transit from his home in upstate Kinderhook, NY to Washington, DC; Woodrow Wilson lodged there while giving a series of lectures at the Young Men's Lyceum between November 1895 and January 1896; President and Mrs. Rutherford B. Hayes spent several evenings here in October 1882 while visiting local resident William Dodge; Teddy Roosevelt and his Rough Riders, passing through Tarrytown in June 1899, stopped for a midday meal; Presidents William Howard Taft and Franklin Roosevelt dined at the Florence, as did actresses Billy Burke and Alice Brady (Brady is now permanently a local resident, in Sleepy Hollow Cemetery); and author Mark Twain, who briefly owned an estate nearby.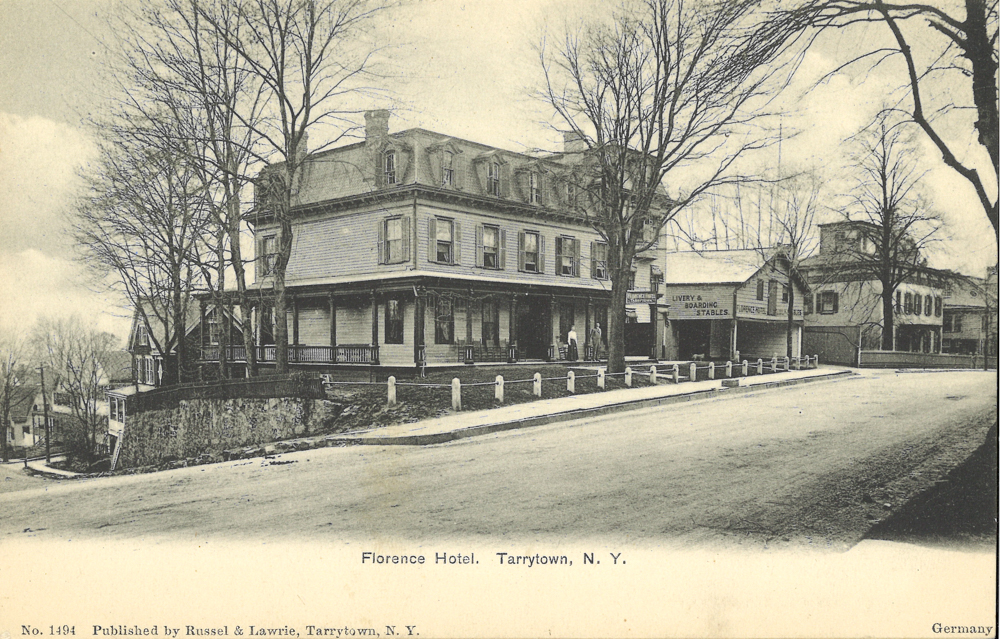 But it was our local author, Washington Irving, who attached himself quite literally to this spot. According to Martha Morgan, who lived next door to the inn, Irving loved to sit on the elm-shaded veranda with a mug of summer ale or in the winter, warm himself with a jigger of rum beside the hearth. Morgan noted that Irving was quite a "Tarrier" – often making his driver wait for hours to take him home.
Sadly, the historic Florence Inn was demolished in 1964. But all is not lost, there are still plenty of local taverns where you can raise a glass to Washington Irving.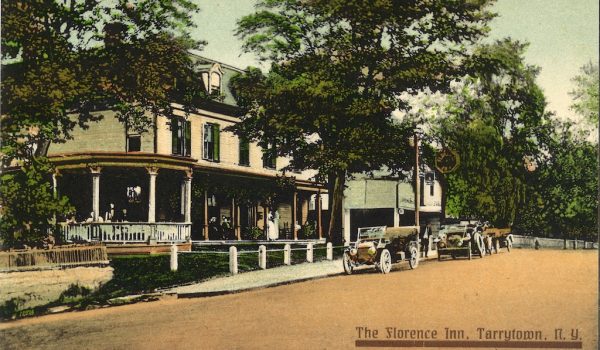 The postcard at the head of this post with the Hotel Florence sign visible next to the flagpole was published by Tichnor Quality Views. Victor E. Park was the proprietor at the time. Tichnor Brothers, Inc. was a Boston publisher and lithography company from 1908 to 1987. During the 20th century, the firm was one of the major producers of souvenir postcards of American vacation spots.