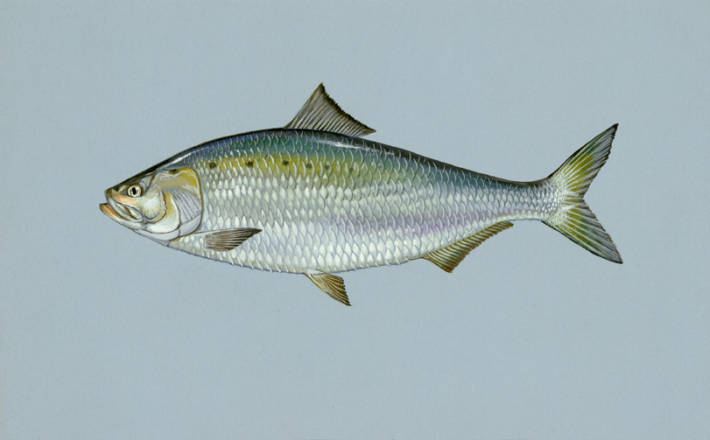 Shad: America's Founding Fish
"Fain would I pause to dwell upon the world of charms that burst upon the enraptured gaze of my hero, as he entered the state parlor of Van Tassel's mansion . . . Such heaped-up platters of cakes of various and almost indescribable kinds, known only to experienced Dutch housewives! There was the doughty dough-nut, the tenderer oly koek, and the crisp and crumbling cruller; sweet cakes and short cakes, ginger cakes and honey cakes, and the whole family of cakes. And then there were apple pies and peach pies and pumpkin pies; besides slices of ham and smoked beef; and moreover delectable dishes of preserved plums, and peaches, and pears, and quinces, not to mention broiled shad…"

–The Legend of Sleepy Hollow, Washington Irving
The American shad (Alosa sapidissima) is found from Florida to New Foundland on the eastern coast of North America. Large schools migrate seasonally, returning to the rivers of their birth on annual spawning runs. This largest of North American herrings was an important seasonal staple fish for both Native American and European colonials. So vast were the runs that they were not only eaten but used as fertilizer for field crops.
Author John McPhee call this largest of herrings "America's founding fish". George Washington seined shad to feed his estate Mount Vernon as well as to sell at market in Alexandria, Virginia though he reputedly was not fond of the fish himself. Thomas Jefferson, born in Shadwell, Virginia, seined shad in his youth, and in McPhee's telling enjoyed it "laid open, broiled and addressed with pepper, salt and butter, and is not known to have eaten shad cooked another way." Legend has it that Washington's army at Valley Forge was saved from starvation by the spring run of shad in the Schuylkill River.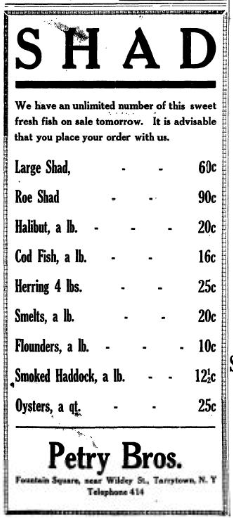 Here in the Hudson River shad return when the water warms to 50 to 55 °F, usually sometime April. Seasonal shad fishing was a tradition on the lower Hudson River for centuries, sustaining countless generations of fishing families. Fish camps stretched along both shores from New York City to Albany with nets staked in the shallows or in deeper water drifted with the tide. In the farming communities along the Hudson it was traditional to swap the plow for a net for a couple days to take advantage of this sudden abundance after a long winter. Perhaps not as prized in some quarters as the more expensive salmon, as Irving himself noted tongue-in-cheek in Knickerbocker's History of New York.
"Ah! blissful and never to be forgotten age! when everything was better than it has ever been since, or ever will be again—when Buttermilk Channel was quite dry at low water—when the shad in the Hudson were all salmon…"

–Knickerbocker's History of New York, Washington Irving
Shad, though, is more than a subsistence food. The scientific species name, sapidissima, translates to "very tasty" and this fish is a favorite seasonal delicacy throughout its range. Shad roe, the egg sacs, is especially prized. It is delicious sautéed in butter, or wrapped in bacon and served with capers. Shad bakes are a rite of spring in Mid Atlantic and New England states, where planked shad (filets nailed to cedar or oak boards) are carefully broiled around an open fire.
"So, likewise, let but the word be given that the shad were ascending the Hudson, and the worthies of the Hollow were to be seen launched in boats upon the river setting great stakes, and stretching their nets like gigantic spider-webs half across the stream to the great annoyance of navigators. Such are the wise provisions of Nature, by which she equalizes rural affairs. A laggard at the plough is often extremely industrious with the fowling-piece and fishing-net; and, whenever a man is an indifferent farmer, he is apt to be a first-rate sportsman. For catching shad and wild pigeons there were none throughout the country to compare with the lads of Sleepy Hollow."

–Wolfert's Roost and Miscellanies, Washington Irving
The annual runs have gone through boom and bust cycles, with overfishing leading to regulation followed by a population rebound. The Hudson River shad fishery peaked in the early 1980s when runs were so massive that market prices collapsed. The abundance was short lived. By 2010 stocks crashed to the point New York state closed both commercial and recreational shad fisheries in the Hudson. Sadly, the fish have rebounded this time and Hudson River shad remain off limits.
By now you may have noticed there's a problem including broiled shad at the Van Tassel's harvest feast in "The Legend of Sleepy Hollow". This wondrous bounty of tasty fish arrivse in early Spring. Ichabod, however, arrives at the Van Tassel's over-laden dinner table "in the sumptuous time of autumn". What to make of Irving putting a spring delicacy at the center of an autumn meal? Was he taking poetic license with fact? Could it be his sojourn in England, where he wrote "The Legend of Sleepy Hollow", dimmed his recollection of the spring ritual of broiled shad?
It seems likely the answer lies in the name. There are other species of shad in the area. Like the American shad, the Hickory shad (Alosa mediocris) spawn in the Hudson River in the spring and its roe is prized as highly as the American shad. Hickories, though, run close to shore during their autumn migration. Although not as concentrated as the spring run, Hickory shad are present in enough numbers to constitute a viable autumn fishery. While not definitive, we will give Irving the benefit of the doubt on inclusion of shad at the autumn Van Tassel feast. If this is indeed the case, another problem arises. While the American shad bears the species name sapidissima (the Latin translates loosely to "very savory"), the Hickory shad has the unfortunate moniker mediocris, which needs no explanation.
"Let's do it, let's fall in love.
Electric eels, I might add, do it,
Though it shocks 'em, I know.
Why ask if shad do it?
Waiter, bring me shad roe."

–"Let's Do It, Let's Fall in Love", Cole Porter