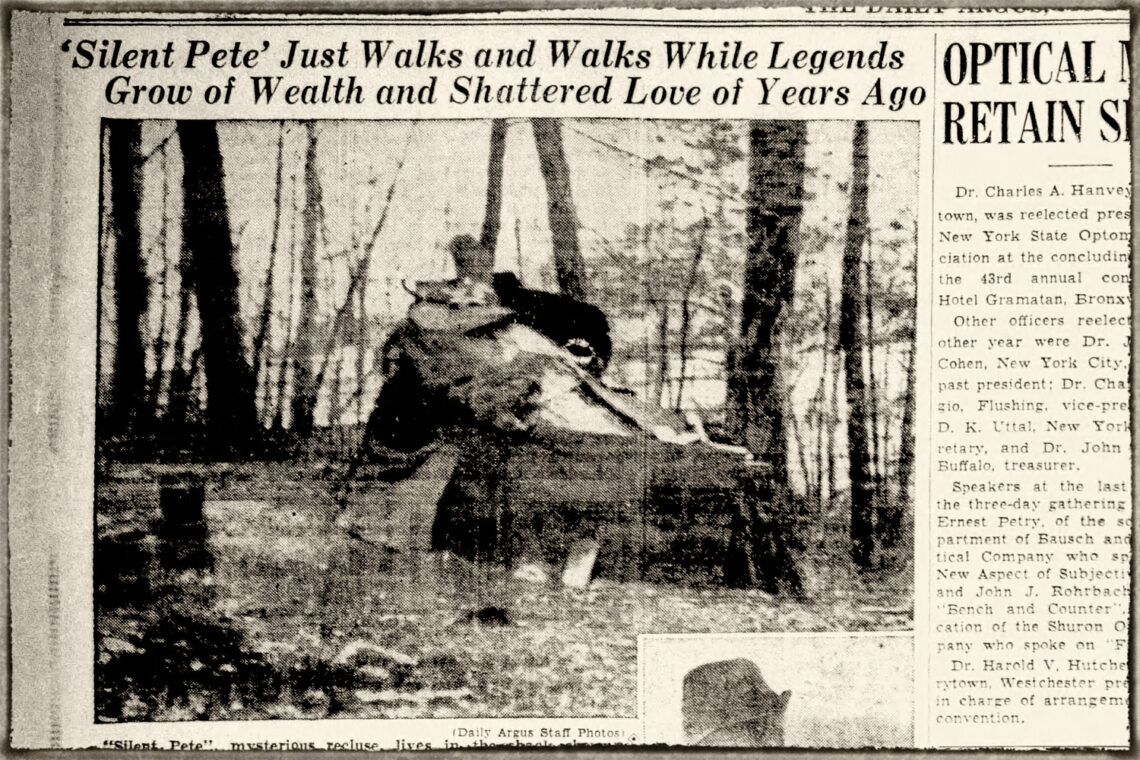 "His shack is a hodgepodge of tarpaper strips, wood, tin, and an old brown blanket over the low doorway. The hut is in the center of a sparse clump of trees and refuse strewn underbrush, north of the Graham School property in Hastings. Smoke curls out of a rusty chimney, rising from a cracking fire in an old stove inside."

The Herald Statesman, Yonkers, N.Y., May 19, 1938
Sleepy Hollow Country has seen its share of reclusive and mysterious characters. The most famous of these was the Leatherman who from 1857 to 1889 walked an annual 365 mile clockwise loop through Westchester and Fairfield counties. He was reported to sleep in caves and crevices along the way, including part of what today is Rockefeller State Park. Irvington had its hermit, Johann Stolting, who built and slept in his own coffin in his isolated hut by the Saw Mill River. Tarrytown and North Tarrytown (today's Sleepy Hollow) were the haunts of Silent Pete, who walked a regular route along the river towns in southern Westchester County.
Silent Pete, also known as Iron Mike and Nothing Joe, lived in ramshackle hut on the east side of Warburton Avenue in Hastings-on-Hudson just north of the Yonkers border. Throughout the 1920s and 1930s Pete was reported to walk regularly from his encampment to North Tarrytown, a distance of about 12 miles. Some say he would only walk on the west side of the road, for reasons unknown. Why he walked and where he stopped along the way became the subject of wild speculation and eventually local legend, culminating in a 1938 series of articles in newspapers throughout the county.
On occasion Pete would benefit from the generosity of households along his route. Alice Elsie du Pont was one notable example, apparently instructing her household staff to give Pete whatever he wanted in the way of a "feed". Alice and her husband Thomas Coleman du Pont, a senator from Delaware and heir to the du Pont fortune, had purchased the Nevis estate in Irvington in 1920 just about the time Pete seems to have started his wanderings. After Thomas died in 1930 Alice held onto the estate for four years before donating it to Columbia University. The university installed Professor Hugh Findlay, associate professor of landscape architecture, on the estate to develop an arboretum and gardens. Unaware of the change in situation, Silent Pete was discovered by Mrs. Findlay napping in the basement of the house the morning of Sunday, September 9, 1935. Hauled into Irvington village court by patrolmen Murphy and Foley, Silent Pete was revealed to be 59-year-old Morris Conway.
As Morris Conway, Silent Pete first appeared in the local news in August of 1913 when Captain Van Buren of the Bronxville police brought him before Judge O'Neill on charges of vagrancy. The Bronxville Review quipped "The Judge thought five days meditation might help Conway's case, which is a chronic one." A competing daily, The Bronxville News, perhaps alluding to rumors of secret wealth, tartly commented "Morris Conway, vagrant, was given five days at White Plains, by Justice O'Neill. There were no lobster-newburgs served to Morris." Apparently five days "meditating" in the county jail did nothing to cure Conway. But it may have contributed to his moving on from Bronxville to friendlier villages along the Hudson River.