"The dominant spirit, however, that haunts this enchanted region, and seems to be commander-in-chief of all the powers of the air, is the apparition of a figure on horseback without a head."

"The Legend of Sleepy Hollow", Washington Irving
When it comes to phantoms in these parts, Sleepy Hollow's Headless Horseman is, to paraphrase Frank Sinatra, top of the list, king of the hill, A-Number-One. While undisputed top dog he's a bit of a recluse, preferring solitary rides along dark, lonely roads. Fortunately, some of our resident spirits are more sociable. The three ghosts we introduce here are reportedly less introverted, attaching themselves to two popular local pubs and one fine-dining restaurant.
Set Back Inn
There's something to be said for a bar that stands the test of time, a tried-and-true place that doesn't chase buzzy, Instagrammable cocktails. Set Back Inn has been a fixture on Main Street in Tarrytown since 1959, and the space it occupies is reputed to have been a tavern even longer—since the mid-1800s. Even a first-time visitor will quickly grasp the origin of the name Set Back: the ice cream parlor on its left and the deli on its right have storefronts extending much closer to the street.
Owned by the Toth family since its founding, this is the sort of neighborhood bar where generations of locals have grown up celebrating each other's birthdays, cheering their kids on the Sleepy Hollow High School sports teams, playing pool and throwing darts to the soundtrack of live local bands and a jukebox. The proprietors generously host fundraisers for the Tarrytown Halloween Parade, training for service animals, and other worthy causes.
Although General Motors shuttered its North Tarrytown automobile assembly plant in 1996, Set Back retains a bit of the gritty atmosphere of a shift-change watering hole where closing time is more of a suggestion than a hard stop. Like many of Main Street's buildings, this one dates to the late 1800s and is built of locally fired Hudson River red brick. Saturated as it is with local history, could this unassuming local dive be home to a spirit? Read on!
Set Back's apparition first appears on record in a 2015 oral history project organized by Tarrytown's Warner Li­brary and monthly newspaper The Hud­son In­de­pen­dent. A September 11, 2015 session recorded local residents describing encounters with the unexplained. A bartender at Set Back using the pseudonym "Stacy" relates her encounter with a black-haired man wearing dark blue jeans and a black shirt leaning against the end of the bar watching as she batched out at the end of her shift. Two patrons at the bar saw nothing, but one confirmed that odd things happen in the place. Stacy received the impression from the figure that he may have been a former Set Back bartender in the 1980s who was rumored to be a murder victim.
House Spirits: 3 draft beers and 45 in bottles or cans, plus a well-stocked bar. Order a fussy cocktail at your own peril.
J. P. Doyle's Restaurant & Public House
J. P. Doyle's is also the type of neighborhood establishment where everybody knows your name and locals gather to celebrate milestones. Doyle's proprietors are regular and generous supporters of organizations that serve local needs, like the relief organization Gullotta House and Horseman's Harvest Neighborhood Pantry.
Its location just a couple doors down Beekman Avenue from Village Hall in Sleepy Hollow puts Doyle's at the center of Sleepy Hollow's Halloween season—the annual haunted hayride starts and ends at the fire station a few doors down while the accompanying block party takes place in the street out front. With all that Halloween activity, could there be a spirit lingering around?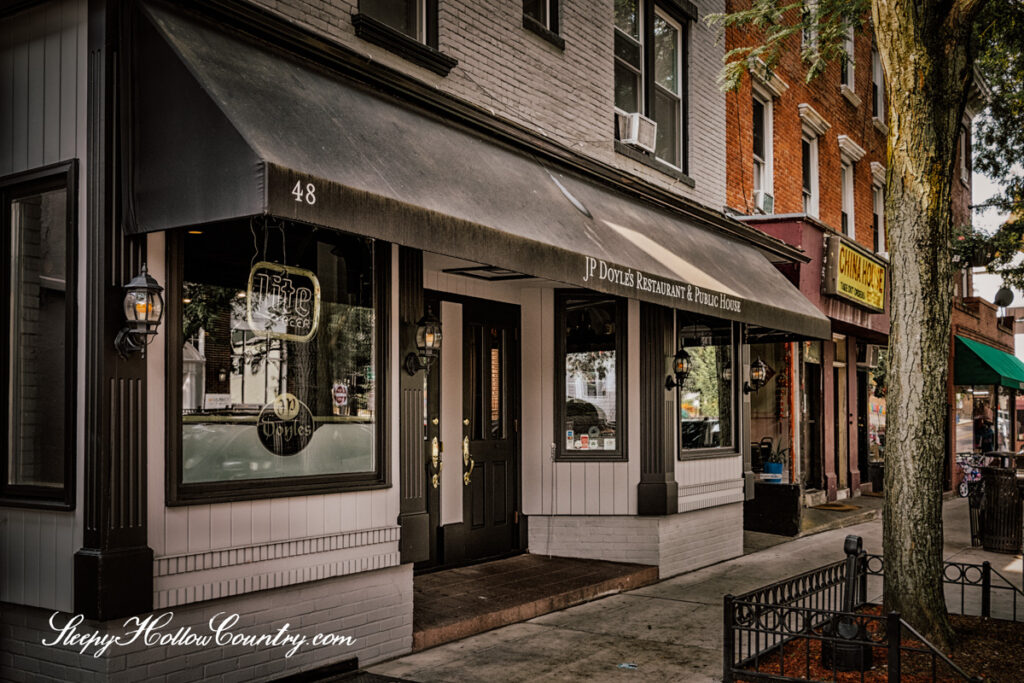 At the same September 2015 recording session at the library, Set Back's bartender "Stacy" recounted that she also tended the bar at Doyle's. Around 2 am after a party for a local fire company ended, she saw the figure of a uniformed Confederate soldier emerge from the empty backyard beer garden. The figure opened the door from the garden into the restaurant itself. Exhausted from a long shift, she exclaimed, "Oh no I'm not in the mood tonight, you've gotta go." The figure spun around and vanished.
House Spirits: The bar has a selection of Irish and American whiskey (also whisky, for the Scots and Canadians).
Goosefeather
Up the hill from Sunnyside, home of Washington Irving, author of "The Legend of Sleepy Hollow", Goosefeather restaurant is located on the grounds of Tarrytown House Estate on The Hudson, a conference center and wedding venue. Chef Dale Talde brings fresh and sometimes unexpected twists to Hong Kong-style Cantonese cuisine. The restaurant is known for its seasonal rotation of cocktails and a very respectable selection of top-shelf spirits. Its outdoor lounge is popular in the summer and maybe even more so in the fall when guests gather around fire pits in the cool of an October evening. If you spot a figure in white flitting past a second-floor window while sipping your cocktail, you may have encountered the resident spirit.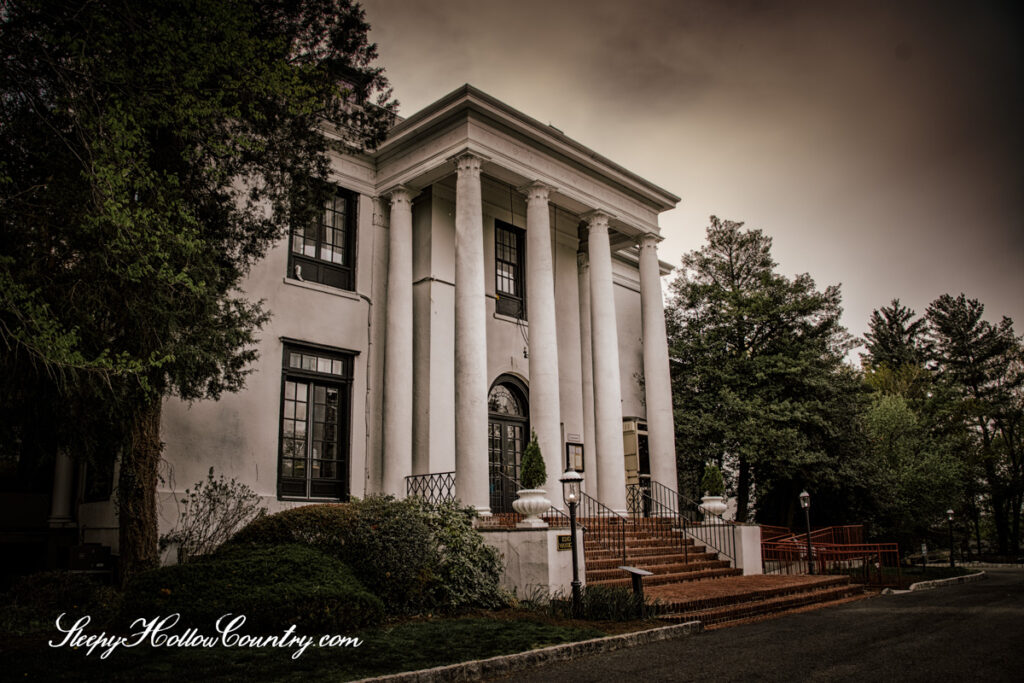 Goosefeather occupies part of the King mansion, the oldest historic home on the property, named for Baltimore & Ohio Railroad executive Thomas M. King. It is his daughter-in-law, Sybil, who is rumored to roam its halls.
According to local lore, Sybil Harris King continues to inhabit her long-time home, where she can be heard pacing the second-floor hallway. She sometimes appears as an apparition in white, other times revealing her presence through shadows or sounds. Guests report she lingers near Room 293, which hotel staff reveal is where she died on August 1, 1955. If you are lucky enough to reserve the room with the spirit, Goosefeather offers room delivery.
House Spirits: trust your mixologist with a seasonal cocktail or mocktail. If you need assistance spotting a spirit, the house stocks three varieties of absinthe—la fée verte—"the green fairy" that brought visions to Vincent van Gogh, Oscar Wilde, Charles Baudelaire, and other artists and writers.